JACK WALKER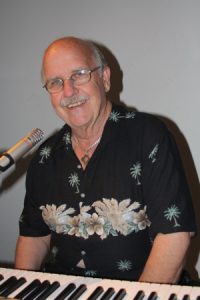 THE EARLY YEARS
Jack Walker discovered his musical talent at an early age. At four he was often put on the dining room table to sing to gathered guests. At six he wrote his first song, words and music. By eight he was part of a 15-minute radio show, The Army Hour. He had his first record on Imperial when he was 14 and at 17 had a regional hit on Dot Records, Love Sublime. He entered UCLA at 17 to study music and at 20 had another regional hit with Oh, Lonesome Me, a cover of Don Gibson's recording which he performed on American Bandstand. He formed a Quartet, The Baysiders, with UCLA friends and recorded an album for Everest Records entitled Over the Rainbow which included the title song that became another regional hit.
In his sixth year at UCLA his college deferment ran out and he was drafted and served honorably as a chaplain's assistant and director of the Fort Ord Soldiers Chorus.
THE YOUNG ADULT YEARS
After his discharge in 1964 he became a music teacher, director of music at Reseda Christian Church and a freelance songwriter. He became involved with Family Films through one of the members at the church and began a long career writing songs and scores for many Christian films. The first publication of two of his choral anthems, Mary's Baby Boy and Wise Men from the East were released by Pro Arts Publications. One of the highlights of his ministry at RCC was a production of Jesus Christ Superstar only months after the album was released. Keith Green (who later became one of the first contemporary Christian rock artists) sang the role of Judas, Jack played Jesus and the youth and adult choir sang the chorus parts.
During this time, Nick Vanoff, Producer of The Hollywood Palace TV show, offered a songwriting contract to Jack. There followed two years of writing at the Palace and having the star of the week ( Lou Rawls, Jack Jones, Joanie Sommer, et al) come by Jack's piano where he would sing them his latest compositions. Several songs were recorded by Jack Jones and Joanie Sommer and his time at the Palace culminated with Jack's appearance on the closing show hosted by Don Rickles and Phyllis Diller.
With the closing of the show, the contract expired and Jack explored writing jingles and continued to score Christian films. The Switch to Ralphs jingle was made and played for three years in Southern California. He recorded an album of Jimmy Webb songs for Mercury with his vocal group, Revelation . Mike Curb signed him to a songwriting contract which lasted for the next two years and several songs were recorded. Jack became co-host and music director of a children's weekly television show, Sunrise Way on ABC.
THE BPC YEARS
In 1975 Jack became Music Director at Brentwood Presbyterian Church and began his relationship with Spencer Marsh who became his mentor. He became Music Director for Solaris Television and wrote and produced songs for several children's television series, starring such luminaries as Hans Conreid, George Gobel, Vito Scotti, Rosemary De Camp and others. Somehow Jack still had time to score several movies including: Christmas Mountain, starring Slim Pickens; The Prize,starring Chuck Woolery; Believe, the story of the founder of AMWAY, Rich De Voss, and others.
In 1978 Spencer Marsh and Jack began writing a musical about the Biblical giant Moses who was portrayed as a "Woody Allen" type character. Though many people expressed an interest, it was never produced until 1994 when it was done on three glorious performances at BPC dedicated to the memory of Spencer Marsh who had passed the year before.
Jack became Music Director and Co-Production Director at Discovery Television in 1983. He spent two years fighting to get an MTV format established that would have provided an alternative to their narrow programming. In response, MTV developed VH1 and Discovery folded.
BPC was continuing to grow under its new pastor, Charles Shields, and at his urging, Jack committed himself to full time work as Minister of Worship and Music, developing children and youth choirs, establishing the Creative Arts Network which brought drama, dance and visual arts into BPC's already dynamic worship, and more.
Jack turned his attention musically to writing music for the church and several of his compositions were published by Fred Bock Music and Ron Harris Music over the ensuing years. He wrote many service pieces for church services, some of the best are in a self-published collection called A New Song, subtitled Service Music for the Changing Church. The extended work, Seven Levels of Praise written with Darrell Cox was performed twice at the church with orchestra.
MUSICAL THEATER AGAIN
With the production of Moses at BPC, Jack's interest in musical theater was renewed in 1998. He wrote a musical based on the Andy Stone book Song of the Kingdom. In 2001 he wrote with Terry Kovac the musical INRI which was produced in six performances at BPC the next year. After the performances, Terry and Jack began re-writing it with a new title, Brothers: Jesus and James.
Jack recently finished a rewrite of Moses and has written several choral pieces on four poems by Mechtilde of Magdeburg, a 13th century mystic and is currently finishing a CD of 10 songs written during a spiritual journey he has been on for the last 3 months. The CD is entitled Living Water.
Jack lives in Santa Monica, California with his wife, Ruth and has two grown children, Jeff and Kelsey and a granddaughter, Avery.